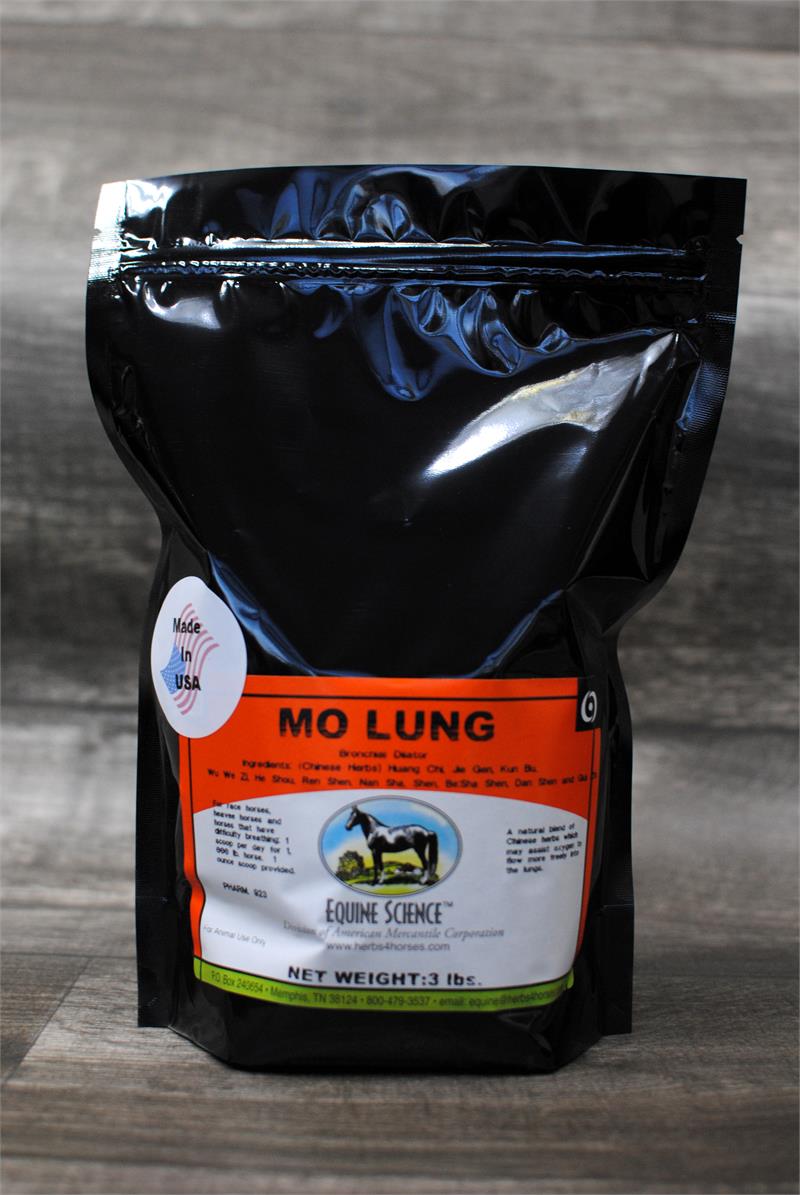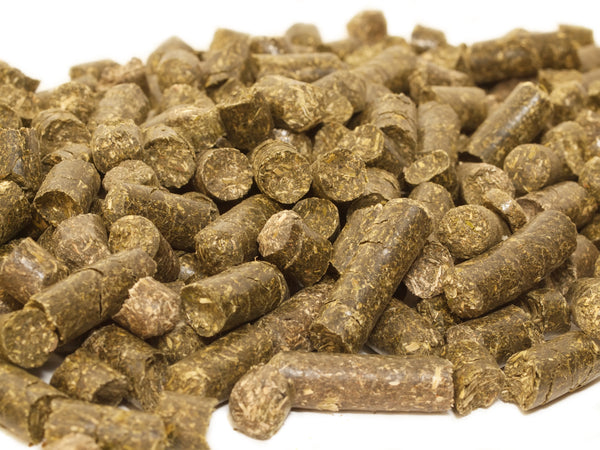 A natural blend of Chinese herbs which may assist oxygen to flow more freely into the lungs.
Recommended Amount:
 For race horses: Feed 1 oz.scoop per day, 5 days prior to race. Based on 1,000 lb. horse.
For all other horses: Feed 1 oz. per day. (1 ounce scoop provided.)
Ingredient:
 (Chinese Herbs) Huang Chi, Jie Geng, Kun Bu, Wu Wei, Zi, He Shou, Ren Shenm Nan Sha, Shen Bei Sha Shen, Dan Shen, Gui Zhi.
Available:
3LB-$67.00
7LB-$138.75
10LB-$173.25
Customer Testimonials:

MO-LUNG & ALLERGY BLEND
Hello Don! I just need to tell you & everyone who needs help with their horse how much you have helped us. Mandy is 14 & she has developed heaves in the last 3 years. Of course the vets wanted her on steroids for 3 months at a time. I know they are very bad for the immune system long term. The first 2 years I put her on dexamethasone for about a month & she was ok. She usually only had one bout with the heaves per year, then was ok. Last year she started with it a month early, we did the dex, the coughing finally stopped, but when she came to the barn, she would trot 2 steps then walk very slowly up to me. This horse almost never gets tired, I can ride for 5 hours or more, she acts like she just had a good night's sleep! I decided it was time to try something else. I was just looking on the internet & found Equine Science, lucky me! I talked to Don, bought Mo Lung & Allergy Blend, received them in about 3 days & got Mandy started. The Mo Lung is powder, it is very difficult to get her to eat anything in powder form, even in sweet feed. She eats this even in her pellet feed! Allergy Blendis pellets, no problem. I saw a difference in Mandy in about 1 week, within 2 weeks she was a new horse. At first I thought these products were a little pricey, but ends up costing less than steroids, & a whole lot healthier! We are both very happy. I can take her camping & ride for 5 days in a row, she is probably the only horse with lots of energy left! God bless you Don, and thank you so much.

-Carol in DeLand, FL

MO-LUNG
As spring does effect my horse .. coughing .. coughing up gobs .. with the MO LUNG. I notice super results he only coughs very little now .. hardly ever see much of the coughing up gobs .. the spring before the had it really bad .. I tried all kinds of other products got very little results I will never be with out your Herbal products will continue to order from you.I will continue to use them my horse is really doing well with your products. Thanks again.

Linda Stilwell - 2010
West Virginia

MO-LUNG
Hey .. Girly... thanks so much for telling me about "Mo Lung" ... I can see a difference in Amigo already.. what good stuff..!! Tell the "Herb Man" it works!! :-) We will be ordering another batch soon.

Linda Stilwell - 2010
West Virginia


MO-LUNG
Last summer, 2013, my 19 year old mare came down with emphysema, she was heaving. She lost a lot of weight and couldn't eat very well. The vet put her on Dexium & antibotics. That got her to at least where she could eat.But this was not going to be a long term solution. My vet said he heard about Mo Lung from one of his customers, and I should give it a try. My wife ordered some and after about a week she started eating and feeling better. She is putting on weight and can run and when she lays down she jumps right up. We mix it in with a little water and sweet feed.Now she will go to the gate when she knows it is time for her Mo Lung and starts yelling at me to feed her. This is a wonderful product, I don't think she would be with us now if we had not found your product.

Clyde
Kaufman, TX 013